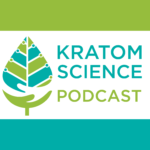 Neuroscientist Dr. Jon Cachat and host Brian Gallagher look at a study from University of Science in Malaysia that studies kratom extracts using various solvents: water, methanol, ethanol, and ethyl acetate. The technique they use, accelerated solvent extracting, uses less time and a lower amount of solvent for a safer and more environmentally friendly extraction technique. This technique has been established in botanical extractions, but is not commonly used for commercial kratom extracts. Some large kratom suppliers have been accused of outsourcing their extractions to China, and products come back containing toxic levels of residual solvents like chloroform and methanol, which could have serious health consequences. Further discussion is included on regulation of extracts, the benefits of extracts, the availability of full spectrum extracts (vs. extracts containing a single or only a few alkaloids), and how a kratom ban would exacerbate risks and dangers of contamination and adulteration especially in extract products. Shout out to Drew Turner for his comment on Twitter
Study referenced in this episode: Goh, Y. S., Karunakaran, T., Murugaiyah, V., Santhanam, R., Abu Bakar, M. H., & Ramanathan, S. (2021). Accelerated Solvent Extractions (ASE) of Mitragyna speciosa Korth. (Kratom) Leaves: Evaluation of Its Cytotoxicity and Antinociceptive Activity. Molecules (Basel, Switzerland), 26(12), 3704. https://doi.org/10.3390/molecules26123704
PLEASE LIKE, SUBSCRIBE, COMMENT, REVIEW, SHARE!
Catch Dr. Jonathan Cachat @jcachat on social media and CCVResearch.com
Music: Captain Bigwheel "Moonrunner"
@kratomscience on twitter
Kratom Science Journal Club is produced by Brian Gallagher for KratomScience.com
Disclaimer: There is no content on the Kratom Science Podcast nor on KratomScience.com that in any way constitutes medical claims or medical advice. You should consult a medical professional for medical advice and we believe this sincerely. Take care.