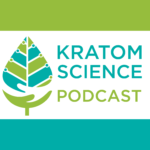 Brian and Kailee talk about the results of the state marijuana and psychedelics referendums from Tuesday's election, a wrongful death lawsuit against kratom companies and the American Kratom Association in Georgia, a death in Transylvania County, North Carolina attributed to suboxone mixed with vaped kratom, a drug company is undergoing human clinical trials for a mitragynine based drug, and another Louisiana parish bans kratom after police lobbying.
REFERENCES:
Kratom Science is on Facebook.com/kratomscience and Twitter @kratomscience
Music: Risey, "Memories of Thailand"
Kratom Science Podcast is produced by Brian Gallagher for KratomScience.com
So far we don't do advertising or ask for donations, but please support the Kratom Science Podcast and Like, Subscribe, Share, Rate, Review, and Comment wherever you listen to podcasts. Thank you!
Disclaimer: None of the content on this or any episode of Kratom Science Podcast, Kratom Science Journal Club, or on any of the pages of KratomScience.com constitutes or should be considered medical claims or medical advice.