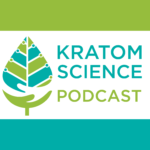 Dr. Jon starts off talking about the art show that took place in October 2022 at the new Cannabis Museum in Athens Ohio. Then we cover a study out of Thailand on kratom's effects on alpha-glucosidase and lipase, enzymes that are inhibited by medications for the treatment of diabetes. We see how kratom and mitragynine compare to standard prescription medications, and talk about the traditional use and possible advantages and disadvantages of developing mitragynine into a diabetes treatment drug in the future.
References:
Limcharoen, T., Pouyfung, P., Ngamdokmai, N., Prasopthum, A., Ahmad, A. R., Wisdawati, W., Prugsakij, W., & Warinhomhoun, S. (2022). Inhibition of α-Glucosidase and Pancreatic Lipase Properties of Mitragyna speciosa (Korth.) Havil. (Kratom) Leaves. Nutrients, 14(19), 3909. https://doi.org/10.3390/nu14193909
"Alpha-Glucosidase". https://www.sciencedirect.com/topics/biochemistry-genetics-and-molecular-biology/alpha-glucosidase
Carlson, D. (2022). "Kratom & Metformin". https://kratom.org/interactions/metformin/
Dr. Jonathan Cachat is on social media @jcachat and http://jcachat.com/
Kratom Science is on Facebook.com/kratomscience and Twitter @kratomscience
Music: Captain Bigwheel "Moonrunner"
Kratom Science Journal Club is produced by Brian Gallagher for KratomScience.com
So far we don't do advertising or ask for donations, but please support the Kratom Science Journal Club and Like, Subscribe, Share, Rate, Review, and Comment wherever you listen to podcasts. Thank you!
Disclaimer: None of the content on this or any episode of Kratom Science Journal Club, Kratom Science Podcast, or on any of the pages of KratomScience.com constitutes or should be considered medical claims or medical advice.