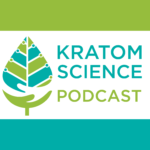 Dr. Cachat and I talk about a study that tested rats with morphine, mitragynine, naloxone, buprenorphine, and rimonabant, and measured responses based on food-reinforcement training. The study concluded "The findings suggest that MG does not induce physiological dependence but can alleviate the physical symptoms associated with morphine withdrawal". We talk about how the rats are trained, what can be concluded from experiments based on responses alone, mitragynine extraction methods, extracted mitragynine vs. kratom methods of administration and effects, how cannabinoid and opioid receptors interact, and why studying kratom alkaloids might lead to the "holy grail" of pain management.
Journal article discussed in this episode:
Direct link to full text https://sci-hub.tw/10.1007/s00213-019-05418-6
Citation: Harun N, Johari IS, Mansor SM, Shoaib M. Assessing physiological dependence and withdrawal potential of mitragynine using schedule-controlled behaviour in rats. Psychopharmacology (Berl). 2020;237(3):855-867. doi:10.1007/s00213-019-05418-6
Summary of this study by Brian Gallagher https://www.kratomscience.com/2020/09/07/study-pure-mitragynine-does-not-induce-physiological-dependence-in-rats-treated-morphine-withdrawal-more-efficiently-than-buprenorphine/
How rats in these studies are trained (with video) https://www.ncbi.nlm.nih.gov/pmc/articles/PMC4354637/
Music: Captain Bigwheel, "Moonrunner"
Kratom Science Podcast is written and produced by Brian Gallagher for KratomScience.com
Disclaimer: There is no content on the Kratom Science Podcast nor on KratomScience.com that in any way constitutes medical claims or medical advice. You should consult a medical professional for medical advice and we believe this sincerely. Take care.