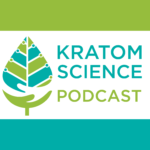 Just me this time around. I talk about a soon-to-be-released document I've been working on through COVID that's 200 pages of kratom testimonials from over 800 consumers who posted to KratomScience.com. I talk about a study on kratom and metabolism I blogged about here https://www.kratomscience.com/2020/09/22/study-shows-mitragynine-metabolizes-into-7-hydroxomitragynine/. And I talk about my own history of drinking alcohol and how kratom is helping me kick off Sober October a week early.
The Kratom Science Podcast is written and produced by Brian Gallagher for KratomScience.com
Disclaimer: There is no content on the Kratom Science Podcast nor on KratomScience.com that in any way constitutes medical claims or medical advice. You should consult a medical professional for medical advice and we believe this sincerely. Take care.