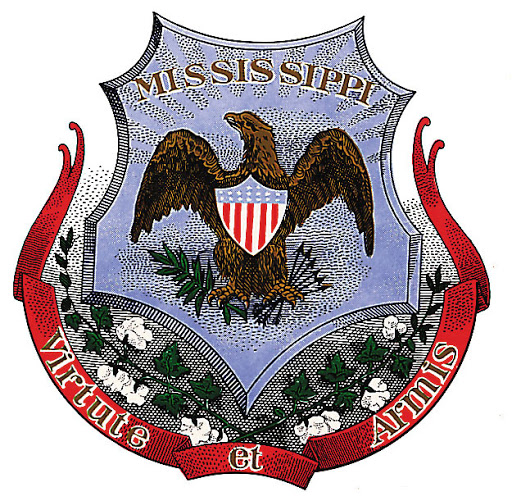 Mississippi has a long history with kratom. Dr. Christopher McCurdy co-authored several groundbreaking kratom studies from 2008-2016 working out of The University of Mississippi. Due in part to a law enforcement task force touring around the state to lobby for prohibition, kratom is now illegal in several towns and counties, including Oxford, the home town of Ole Miss.
The latest Mississippi county to propose a ban is Pearl River County, located in the Southwest corner of the state, with I-59 running through it to New Orleans. The county's Board of Supervisors voted unanimously in support of a ban, but it needs to be drafted and voted on before it becomes law. According to a December 27th WLOX story, the prohibition ordinance was being drafted by the county attorney to be ratified. However, "both city governments in Pearl River County will have to pass the same or similar ordinances before it can be enforced."
Two prohibitionists have lent their voices to make criminals out of Mississippian kratom consumers. One is Joe Garcia, a narcotics officer with the Pearl River County Sheriff's Department. Garcia claimed children were being targeted by kratom marketing and that kratom "puts them out of their mind". He offered no evidence for these claims. The other is Lauren Goar, the county's deputy clerk, a former methamphetamine and alcohol user who worked at Teen Challenge, a faith based sobriety program. "If God can do it for me, I believe He can do it for other people, and I believe this substance is harmful to other people who are trying to recover from addiction," Goar said in the WLOX story.
More prohibition logic came in the form of a quote by one of the county supervisors. From WRJR radio:
District 1 Supervisor Donald Hart said while he can't say exactly what residents are using in the form of drugs, but he is very concerned.
"I see these guys on the streets at different places, no shirts, pacing back and forth, laying on the ground, and wollering in the grass. I've had occur a couple of times when they tried to get in my shop (barber shop) with my customers, and I locked the door because I can't let my customers be exposed to something like that," Hart stated.
"I don't know what they are on, but I didn't see this happen until we starting seeing these things at the counters in the convenience stores."
Prohibition has always been based in fear and proudly ignorant arguments like the one above, rather than rational thinking. Exorcise the demon drug, and the underlying problems will disappear like magic. Exaggerating negative effects, along with the general assumption that all psychoactive substances are by default evil and addictive has been a tactic since the days of Harry Anslinger, the sociopath who led of the Federal Bureau of Narcotics in the 1930s. "Marijuana is an addictive drug which produces in its users insanity, criminality, and death," Anslinger proclaimed, and this fallacy echos from his grave in Hollidaysburg, Pennsylvania, all over the world. Drugs will hurt your children, make them crazy, and land you in the lap of Satan himself.
Forget that shame, punishment, prison, and being prevented to work, all the result of prohibitionist policies like the one being proposed by the Pearl River County Board of Supervisors, have been proven to exacerbate the problems of the tiny fraction of drug users who experience addiction. The evidence is so stark that Nora Volkow, the head of the National Institute on Drug Abuse (NIDA) wrote in 2021:
We have known for decades that addiction is a medical condition—a treatable brain disorder—not a character flaw or a form of social deviance. Yet, despite the overwhelming evidence supporting that position, drug addiction continues to be criminalized. The US must take a public health approach to drug addiction now, in the interest of both population well-being and health equity.
Pearl River County's January 3rd Board Agenda included a 15 minute "Discussion in Support of Kratom" by Daniel Wise, a yoga instructor who runs a studio Hattiesburg, northeast of the county. Wise was a candidate for the Mississippi House of Representatives in 2016. WRJR radio posted an account of this testimony:
Wise gave an account of his recovery from shoulder surgery and how Kratom helped him through recovery.
He said he was offered opioid based pain medicine to assist him with sleep after his surgery, but he opted instead to use kratom after doing some research. Wise said he did not like the way pain pills made him feel
The American Kratom Association has requested to make a presentation for the county's next board meeting, announced in a December 30 post on their Facebook page. "For anyone who wants to sign up to speak at the January 19, 2022 Board Meeting will have to call 601-403-2300 BEFORE JANUARY 13, 2022 and ask for the County Administrator. You can then confirm that you are making a request to speak at the January 19 meeting."
WLOX news is also looking for kratom vendors or consumers from Pearl River County to speak out about their kratom experience.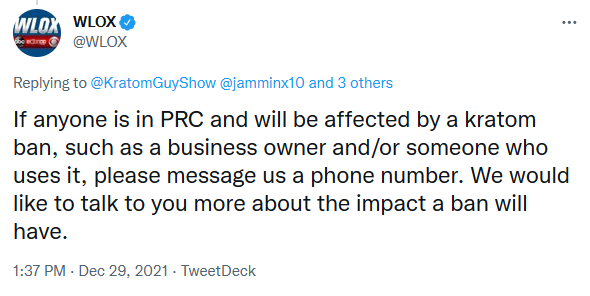 ###