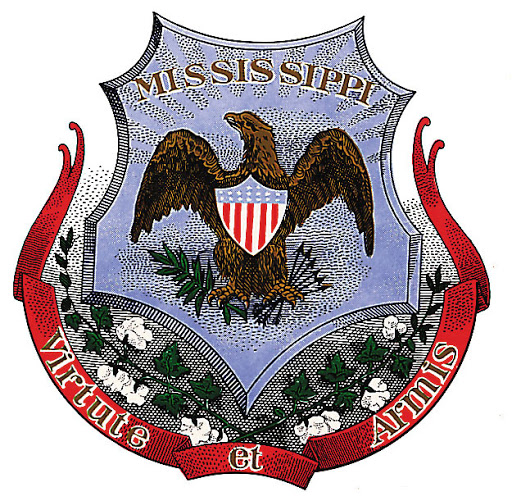 "We can't arrest our way out of this."
Tammy Reynolds spoke those words on August 15, 2017 in a packed courtroom in the town of Columbus, in Lowndes County, Mississippi.
Recently promoted to the rank of captain in the Mississippi Bureau of Narcotics (MBN), Reynolds was there to speak about the opioid epidemic along with fellow MBN agent John Dowdy, the director of the Governor's Opioid and Heroin Abuse Task Force .
From the Columbus Dispatch Aug 16, 2017:
The way to beat the country's opioid crisis is to medically treat opioid addiction rather than just throw addicts in prison.

Or, as both Mississippi Bureau of Narcotics Director John Dowdy and agent Tammy Reynolds both said during a town hall meeting: "We can't arrest our way out of this."

Nearly every seat in the Columbus Municipal Complex courtroom was filled at Tuesday's meeting, which MBN hosted alongside other law enforcement and medical agencies, including the Mississippi Board of Pharmacy and the Mississippi Department of Mental Health. Authorities have been holding similar meetings all over the state to highlight the opioid problem and discuss solutions.

When she first became an agent 20 years ago, she rarely saw heroin and never saw fentanyl, a prescription opioid which drug dealers have begun mixing with heroin. Since the 1990s, the number of prescription opioids U.S. doctors have written has quadrupled, she said — and so have opioid overdose deaths.

But 20 years ago, Reynolds added, she thought addiction was a choice. Now she said she understands it as a mental health issue.

And arresting the addicts isn't the answer, she said.

… "I've tried. It's not working."

Two months later, on October 25, 2017, Captain Reynolds was accused of stealing drugs from her workplace, the MBN field office in Tupelo. She was given a drug test and allegedly tested positive for methamphetamines. As a result, she was demoted from her rank as captain.
Reynolds appealed and won. The Appeals Board found she had a prescription for pseudoephedrine, a legal substance marketed under the brand Sudafed that is also used in the manufacture of illicit methamphetamine. The Board found that she only took two packets of Biofreeze, a menthol-based topical pain reliever, and was not stealing narcotics seized by her department.
This demotion, apparently because of a drug she was using as medicine, caused considerable damage to the income and reputation of Tammy Reynolds.
Yet now she wants to inflict the same damage, and worse, to kratom consumers.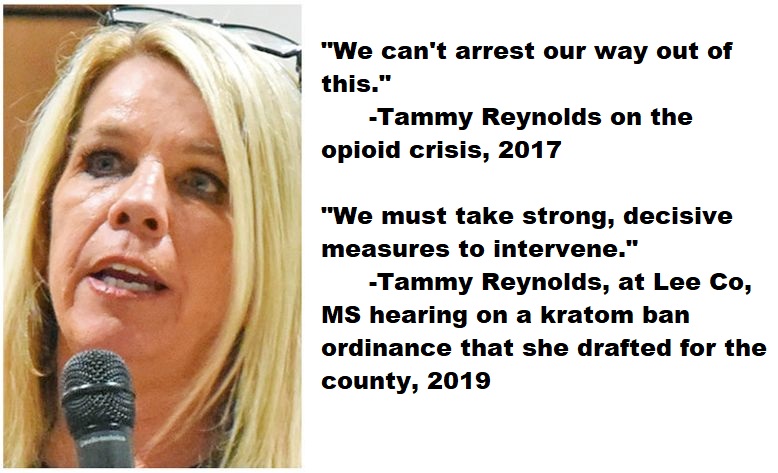 In 2018, Tammy Reynolds was appointed to the Lowndes County Crime and Addiction Task Force, a group conceived by the Lowndes Community Foundation. Apparently, the main objective of this task force is to outlaw kratom. Not only were they successful in banning kratom in Lowndes, but the task force has been traveling around Northeast Mississippi trying to convince other county and town councils to ban kratom within their jurisdictions.
And not only is this task force advocating for anti-kratom ordinances to be passed, they are writing the ordinances. According to a WCBI TV report, "Captain Reynolds helped draft the proposed ordinance that would ban Kratom in Lee County."
Thus far in Mississippi 10 counties and 23 cities have banned kratom, sometimes without a public hearing, or hearings held without notifying the public. One Mississippi kratom advocate told Kratom Science, "It's hard to find out about the meetings because they try to keep it quiet…My county banned it without a public meeting. They gave a few week notice before it went into effect."
Most of these counties and cities are located in Northeast Mississippi, the southern tip of Appalachia. Appalachia was hit heavily by the opioid crisis, as big pharmaceutical companies pumped thousands of pills into pharmacies that were willing to sell them to anyone.
The federal government's answer to the opioid crisis was CDC guidelines that put pressure on doctors to under-prescribe opioids, even to chronic pain patients who need them. As a result, many Americans, tired of inadequate and expensive healthcare, are turning toward kratom.
A 2018 Mississippi Senate bill would have added kratom to the list of Schedule 1 substances for the entire state. The bill quickly died in committee due to a public outcry and a few conscientious representatives who were willing to listen to their constituents.
The bill was sponsored by State Senator Chuck Younger from Lowndes County. Younger is known for voting to allow dark money in campaign contributions. His son, Colton Younger, was arrested for possession of Oxycontin in 2015. The charges were dismissed. A year later Colton was arrested for robbery and eventually sentenced to three years in prison.
Younger said about his failed bill that "some senators got calls from people saying it was great for pain relief… That's bull. It's just another way to get high, in my opinion."
Despite the efforts of the Lowndes County Crime and Addiction Task Force, Mississippi kratom advocates have managed to fight hard to keep kratom legal, for now, in some places where it was challenged: in the counties of Lee, Clay, and Oktibbeha, and the cities of West Point, Amory, and Nettleton. But with police and state narcotics agents directly campaigning to outlaw kratom, some advocates are afraid to speak out.
I asked a local kratom advocate who wished to remain anonymous whether advocates in the area feared police intimidation.
"Yes. Scared of the MBN and other cops…They do bad stuff all the time. A kratom consumer told me the other day that Eddie Hawkins scared her at the Lee County meeting and that's why she doesn't help more. She has kids… Eddie stared her down the whole time and got her tag number when she was leaving."
Mississippi Bureau of Narcotics Lieutenant Eddie Hawkins is running for sheriff of Lowndes County (The election is next Tuesday, August 6, 2019). The claims the Lowndes County Crime and Addiction Task Force make against kratom are wildly exaggerated if not completely invented, and never backed up by logic, let alone substantial evidence. Eddie Hawkins leads the pack on these types of claims.
To get a feel for how this group operates in meetings with these small local councils, watch this video of a presentation this task force gave to the Oktibbeha County Board of Supervisors
Here are some of the outrageous quotes Eddie Hawkins has been feeding local councils and the media:
In May 2019 Hawkins told WTVA that kratom is "13 times more powerful than morphine so kids have access to morphine simply by buying this in a convenience store."
"People can't afford their habit, so they're offering them credit. There's a lady who owes a convenience store $4,800 for purchase of kratom, so she's taken rings and TVs and everything else like a pawn shop to try to support her addiction to these products," Hawkins said…

"We have documentation where people have $800 a week habits that they're spending on buying these drugs," said Lt. Eddie Hawkins… "People are now changing their drug of choice from the opioid addiction and starting to use this kratom. They're trading one addiction for another. We've had a lot of people say, 'This is the best drug ever because it helps with our pain,' but who goes to a gas station to manage their pain?"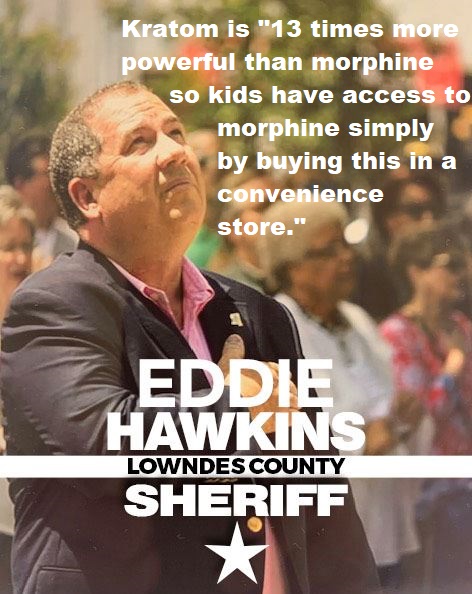 "We've already heard about student athletes in high schools using (Kratom) to improve athletic performance," said Hawkins. "And it's hard to tell them that it's a dangerous substance because why would you stop taking it when it makes you feel good and perform well?"
Hawkins offers no evidence for any of these claims. Can you imagine a situation where a small town convenience store in Mississippi carries $4800 worth of kratom? And offers it on credit?
The "$800 a week habits" quote refers to one of the more popular pieces of anti-kratom propaganda appearing in several Mississippi news outlets, Angela Jourdan, a nurse from Caledonia and a member of the Lowndes task force, claimed her husband tried kratom and in just two months he was spending $800 a week to feed his habit. She describes other behavior such as abuse, job loss, and petty crimes.
It's a story that is becoming familiar to kratom activists. Opioid addicts often lie that their spending habits are due to a legal substance like kratom to reassure their loved ones they're not breaking the law. A comment on this story posted at Daily Times Leader by reader Cate Suarez read:
$800/week on Kratom? More like faking an impossibly expensive Kratom addiction to hide an addiction to much stronger opioids. No one is spending that much on Kratom.

$800/week sounds about right for street oxycodone. It's ~$20-30 for an 80mg extended release oxy or ~$30 for a 30mg immediate release oxy. Combine that with how rapidly opioid tolerance occurs and the average user is easily spending at least $100/day on their fix.
Baseless claims, along with the likelihood that many gas stations in the region are carrying adulterated products, are good enough for many lawmakers to quickly and quietly enact prohibition laws. What Mississippi needs is regulatory measures such as the Kratom Consumer Protection Act to ensure consumers are getting high quality, pure leaf kratom.
Law enforcement in Mississippi can only arrest their way into more problems and unnecessary hardships for the people of their state if they decide to ban kratom.