We've been seeing in the news again lately that poison control centers are receiving an increasing amount of calls about kratom. We've seen stories like this in 2016. CNN ran a story yesterday. In 2018 three of CNN's top ten advertisers were drug dealers (Humira, Otzela, and Neulasta — how do they come up with these names?). So, no conflict of interest there.
FDA Commissioner Scott Gottlieb, M.D. was all to happy to Tweet out this exciting news without any context.
As we tweeted, 84% of people who are calling poison control centers for any reason are experiencing non-toxic or minimally toxic exposure to substances.
The vast majority of substances that people call poison centers for are federally approved – most by the FDA. Here are the statistics for adults from poison.org: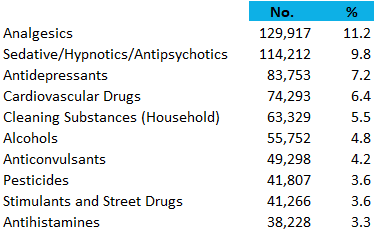 If kratom even falls into the "Stimulants and Street Drugs" it's way down on the list.
According to this 2016 Centers for Disease Control and Prevention study, calls about kratom that were considered major exposures constituted only 7.4% of all calls. One death was reported by a person who, of course, was abusing other substances.
For 26.2% of kratom exposure calls, no effects were reported at all. Most effects reported were increased heart rate, irritability, drowsiness, nausea, and high blood pressure.
Essentially, most people who have called a poison control center after ingesting kratom were freaking out about very normal, mild effects. These overreactions just might have less to do with kratom itself, and more to do with all the gloom and doom reports from the FDA and in the media about how "deadly" kratom is.