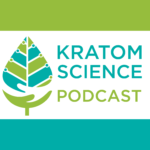 Dr. Jon Cachat and Brian look at a survey conducted from 2019-2020. The survey found the majority of the 2,296 respondents with psychiatric conditions reported improvement in their condition following the consumption of kratom. Recently published by the American Psychological Association, the survey was authored by five past Kratom Science Podcast guests: Drs. Oliver Grundmann, Kirsten Smith, Darshan Singh, Zach Walsh, and Marc Swogger.
References
Grundmann, O., Veltri, C. A., Morcos, S., Smith, K. E., Singh, D., Corazza, O., Cinosi, E., Martinotti, G., Walsh, Z., &
Swogger, M. T. (2023, January 12). Correlations of Kratom (Mitragyna speciosa Korth.) Use Behavior and Psychiatric
Conditions From a Cross-Sectional Survey. Experimental and Clinical Psychopharmacology. Advance online publication.
https://dx.doi.org/10.1037/pha0000632
Our summary of the above reference: https://www.kratomscience.com/2023/01/25/people-with-psychiatric-conditions-report-improvement-after-kratom-use-in-large-survey/
Dr. Jonathan Cachat is on social media @jcachat and http://jcachat.com/
Kratom Science is on Facebook.com/kratomscience and Twitter @kratomscience
Music: Captain Bigwheel "Moonrunner"
Kratom Science Journal Club is produced by Brian Gallagher for KratomScience.com
So far we don't do advertising or ask for donations, but please support the Kratom Science Journal Club and Like, Subscribe, Share, Rate, Review, and Comment wherever you listen to podcasts. Thank you!
Disclaimer: None of the content on this or any episode of Kratom Science Journal Club, Kratom Science Podcast, or on any of the pages of KratomScience.com constitutes or should be considered medical claims or medical advice.