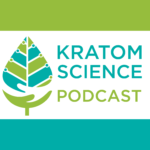 Thailand has recently decriminalized kratom after 79 years of prohibition. In today's episode of Kratom Science Journal Club, Dr. Cachat and Brian look at a study funded in part by the Thai government that analyzed kratom trees growing in various regions of Thailand. The team measured mitragynine levels, accounting for variables in climate such as light, temperature, humidity, and soil moisture. This information will be used to standardize a kratom product for future agriculture. In years to come, Thailand is set to be be a major exporter of kratom to the west, competing with Indonesia, where 95% of kratom imported into the United States comes from.
Reference
Leksungnoen, N., Andriyas, T., Ngernsaengsaruay, C., Uthairatsamee, S., Racharak, P., Sonjaroon, W., Kjelgren, R., Pearson, B. J., McCurdy, C. R., & Sharma, A. (2022). Variations in mitragynine content in the naturally growing Kratom (Mitragyna speciosa) population of Thailand. Frontiers in plant science, 13, 1028547. https://doi.org/10.3389/fpls.2022.1028547
Summary by Kratom Science https://www.kratomscience.com/2022/11/30/scientists-study-mitragynine-levels-in-thai-kratom/
Interview with Drs. Chris McCurdy and Brian Pearson https://www.kratomscience.com/2022/06/07/interview-with-dr-christopher-mccurdy-and-dr-brian-pearson-on-the-history-and-future-of-kratom-plant-science-and-pharmacology/
Dr. Jonathan Cachat is on social media @jcachat and http://jcachat.com/
Kratom Science is on Facebook.com/kratomscience and Twitter @kratomscience
Music: Captain Bigwheel "Moonrunner"
Kratom Science Journal Club is produced by Brian Gallagher for KratomScience.com
So far we don't do advertising or ask for donations, but please support the Kratom Science Journal Club and Like, Subscribe, Share, Rate, Review, and Comment wherever you listen to podcasts. Thank you!
Disclaimer: None of the content on this or any episode of Kratom Science Journal Club, Kratom Science Podcast, or on any of the pages of KratomScience.com constitutes or should be considered medical claims or medical advice.