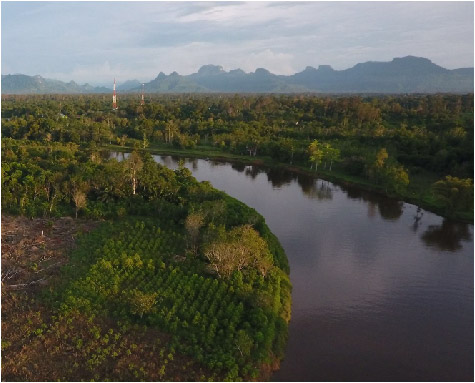 In a study published in October in Frontiers in Plant Science, researchers collected leaves from kratom trees in various regions of Thailand to measure mitragynine (MG) levels, and to account for environmental variables that may influence the alkaloid content. The team from Kasetsart University in Bangkok found a range of mitragynine content, from 7.5 to 26.6 mg/g of dried leaf.
The team found that "the most significant environmental variables affecting the MG content among the various regions were light intensity, relative humidity, soil volumetric water content (VW), soil pH, and calcium".
According to the study, higher concentrations of mitragynine occur mostly in the Central and Southern regions of Thailand, where plants receive more light, and where humidity is higher than in Northern and Northeastern regions, where the team found lower levels of mitragynine.
Developing a standardized agricultural product
The authors note the importance of determining optimal growing conditions that could provide a consistent kratom product for the commercial market.
In 2021, Thailand decriminalized kratom for the first time since prohibiting the plant in 1942 "to protect the opium market", according to Southeast Asian drug policy expert Pascal Tanguay. But with the popularity of kratom in the West, "They see that it's a large, untapped market. They have the resources, they have a heavily agrarian society that is good for cultivating. They've got rich fertile soil," Tanguay told Kratom Science in 2021. "They're ready to produce."
Funding for the study came from the Thai government's Ministry of Higher Education, Science, Research and Innovation, as well as the Thailand Science Research and Innovation, another government funded group.
Given the variability in alkaloid content, the various brain receptors that the 40+ alkaloids activate, variability in individual metabolism, and the variable experiences that consumers seek with kratom, product standardization in commercial agriculture is a desirable outcome. Currently, consumers have to rely on brand names (commonly called "strains") that vary in branding and content from vendor from vendor.
Dr. Christopher McCurdy, medicinal chemist who co-authored the study, explained the reason for product standardization to Kratom Science in a previous interview: "I say, some mornings I only need one cup of coffee and I'm good to go. Other mornings I'm like, man, I need three or four cups of coffee. I'd like to think that my coffee is standardized for caffeine content and everything else."
Dr. Brian Pearson, a horticulturalist from University of Florida who also co-authored the study, told Kratom Science in the same interview about the process of developing plants for the commercial market:
We identify a plant that has certain characteristics we're looking for… it is important to identify what alkaloids may be beneficial and those that are not, and that ultimately helps us select which plant or plants we want to move forward.

From that point we can get them into a tissue culture facility…where we can mass-produce millions of plant units a year that are 100 percent genetic clones every single time, so that eliminates genetic variability.

The last component is an environmental component. So even if we have 100 percent perfect clones of each other, then it's a matter of understanding how the environment influences that plant again in terms of growth and yield and herbivory and alkaloid synthesis. So once we understand the environment – the light, the heat, the water or lack of water, and water stress – we can put together a protocol that would allow for essentially very, very uniform production of plants…
Evidence more accurate than previous findings of mitragynine in Thai kratom
The evidence from the study also casts doubt on previous claims repeated in much of the literature that Thai kratom contains mitragynine at 66% of alkaloids, while Malaysian kratom contains 12% mitragynine. Dr. Pearson told Kratom Science that these numbers "were based off of very, very few data points, and so it was a very large extrapolation of a very small sample size. Small enough that it's taking quite a few liberties to cast a net over an entire region or several countries to make the generalizations."
The team found that the mitragynine content observed in this study was comparable to that reported in previous, more detailed studies. "This indicates the potential of growing kratom in varying environmental conditions in Thailand without a substantial reduction in the amount of bioactive chemicals obtained," reads the study.
A variable not included in this study was the age of the kratom trees, which would determine the best harvest times for optimal alkaloid content. Therefore, the authors note, "a future study focusing on kratom alkaloid production relative to trees of different ages and stage of growth will be undertaken to better understand their effects on alkaloids."
Reference
Leksungnoen, N., Andriyas, T., Ngernsaengsaruay, C., Uthairatsamee, S., Racharak, P., Sonjaroon, W., Kjelgren, R., Pearson, B. J., McCurdy, C. R., & Sharma, A. (2022). Variations in mitragynine content in the naturally growing Kratom (Mitragyna speciosa) population of Thailand. Frontiers in plant science, 13, 1028547. https://doi.org/10.3389/fpls.2022.1028547