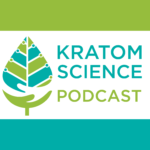 Dr. Jonathan Cachat and host Brian Gallagher look at a case report of a supposed kratom-induced psychosis out of a student team from West Virginia University School of Medicine Department of Psychiatry, advised by MDs Alexander Muacevic and John R Adler.
A 43 year old man combat veteran with six tours of duty, traumatic brain injury, adrenal insufficiency, and post-traumatic stress disorder arrives at the ER with signs of psychosis. Prior to this, he hadn't slept in a week and ceased all medications including adderall, hormone pills, an antidepressant, and a weekly testosterone injection. He'd also been taking powder kratom and had ingested a bottle of liquid extract a week prior to going to the hospital. Could kratom have actually induced psychosis given all these elements combined, including prolonged insomnia? Could kratom have even contributed to his condition? If not, why does kratom get the headline? We look at the meat of the report, Dr. Jon goes off on why eye-catching titles for case reports can be damaging to science, and during the recording Brian finds another article about "Kratom-Induced Seizures", by a team of medical students, advised by the same two doctors as the original report, Alexander Muacevic and John R Adler.
Study covered in this podcast: Cutlip, H. A., Bushman, E., Thottumari, L., Mogallapu, R., & Ang-Rabanes, M. (2021). A Case Report of Kratom-Induced Psychosis. Cureus, 13(6), e16073. https://doi.org/10.7759/cureus.16073
Other study referenced: Afzal, H., Esang, M., & Rahman, S. (2020). A Case of Kratom-induced Seizures. Cureus, 12(1), e6588. https://doi.org/10.7759/cureus.6588
Follow Dr. Jonathan Cachat on social media @jcachat
Music: Captain Bigwheel, "Moonrunner"
The Kratom Science Podcast is produced by Brian Gallagher for KratomScience.com
Disclaimer: There is no content on the Kratom Science Podcast nor on KratomScience.com that in any way constitutes medical claims or medical advice. You should consult a medical professional for medical advice and we believe this sincerely. Take care.
###