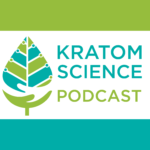 Please comment by August 9, 2021 to tell HHS/WHO to please keep kratom legal worldwide. Politely share your kratom story here, make sure you get a confirmation email and tracking number, and under "What are you commenting about?" Select "International Government – I0037" https://www.federalregister.gov/documents/2021/07/23/2021-15685/international-drug-scheduling-convention-on-psychotropic-substances-single-convention-on-narcotic?fbclid=IwAR1jTz7JSte491H5eTQBwjrivN4Y60s1t-kIPc1iy9UvnjfY2kkwHNFuBvM
Disclaimer: None of the content on this podcast or on KratomScience.com constitutes medical advice, nor is it intended to be the *wink wink* kind of medical advice. Go to a doctor if you're sick. Do not refuse treatments that have been shown to be beneficial from years of hard work by scientists in the medical field. We're all adults here and we know that there's no evidence kratom is a cure for any disease, virus, infection, or any ailment.
Today Dr. Jon and Brian look at a study from University of Science in Malaysia, testing whether kratom alkaloids can be "chemosensitizers", in other words, help chemotherapy drugs in killing or slowing the proliferation of cancer cells. In this in vitro study on cancer cell lines, researchers found that a combination of the kratom alkaloids mitragynine and speciociliatine helped the chemo drug cisplatin in slowing and killing throat cancer cells. The research also showed that any combination of kratom alkaloids does NOT slow or kill cancer cells on its own. Plus, Dr. Jon talks about the latest on cancer and cannabis/cannabinoids. We end with talking about the HHS comment period and potential international controls on kratom in the future.
Study referenced in this podcast:
Domnic, G., Jeng-Yeou Chear, N., Abdul Rahman, S. F., Ramanathan, S., Lo, K. W., Singh, D., & Mohana-Kumaran, N. (2021). Combinations of indole based alkaloids from Mitragyna speciosa (Kratom) and cisplatin inhibit cell proliferation and migration of nasopharyngeal carcinoma cell lines. Journal of ethnopharmacology, 279, 114391. Advance online publication. https://doi.org/10.1016/j.jep.2021.114391
Follow Dr. Jonathan Cachat on Social Media @jcachat
Music: Captain Bigwheel, "Moonrunner"
Kratom Science Journal club is produced by Brian Gallagher for KratomScience.com
Disclaimer: There is no content on the Kratom Science Podcast nor on KratomScience.com that in any way constitutes medical claims or medical advice. You should consult a medical professional for medical advice and we believe this sincerely. Take care.