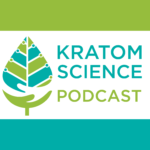 Study examined in this episode: Smith, K. E., Bunting, A. M., Walker, R., Hall, M. T., Grundmann, O., & Castillo, O. (2019). Non-Prescribed Buprenorphine Use Mediates the Relationship between Heroin Use and Kratom Use among a Sample of Polysubstance Users. Journal of psychoactive drugs, 51(4), 311–322. https://doi.org/10.1080/02791072.2019.1597224
Pubmed link https://pubmed.ncbi.nlm.nih.gov/30961450/
Link to all studies covered on Kratom Science Journal Club https://bit.ly/KratomSciPDFs
For #21 Brian and Dr. Jon Cachat look at a study of polysubstance users in Kentucky, most of whom were either currently incarcerated or had been incarcerated in the 7 years prior to the research. The study examines substance use trends of this sample of about 500 volunteers, licit vs. illicit opioid use, and why heroin users were 2.5 times more likely to use kratom than users of other substances. We talk about the motivations for why low income people may either prefer or are required by circumstance to turn to diverted buprenorphine (meaning obtained legally but sold illegally) or kratom instead of prescription drugs or Medication Assisted Treatment. The paper examines the scarcity of MAT resources in Kentucky. Dr. Jon also talks about the limitations of the study and his problem with one aspects of the study's conclusion.
Music: Captain Bigwheel, "Moonrunner"
Kratom Science Journal Club is produced by Brian Gallagher for KratomScience.com
Disclaimer: There is no content on the Kratom Science Podcast nor on KratomScience.com that in any way constitutes medical claims or medical advice. You should consult a medical professional for medical advice and we believe this sincerely. Take care.
###