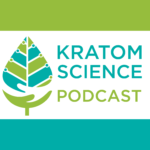 Note: Nothing in this podcast or on KratomScience.com is intended to be medical advice, nor should it be taken as such. We're not medical doctors. Please don't listen to podcasts for advice on what you should or should not put in your body.
Dr. Cachat continues answering questions from February's r/kratom Ask Me Anything. This time we talk about whether kratom will follow the path of cannabis in terms of regulation, if kratom will be turned into a pharmaceutical drug, kratom and dopamine agonists, kratom and libido, and random weird effects that probably aren't caused by kratom.
Part 1 here https://www.kratomscience.com/podcast/14-journal-club-qa-part-1-kratom-and-liver-enzymes-alcohol-pain-management-and-serotonin/
Music: Captain Bigwheel, "Moonrunner"
Contact Dr. Cachat @jcachat on Twitter
Produced by Brian Gallagher for KratomScience.com
Disclaimer: There is no content on the Kratom Science Podcast nor on KratomScience.com that in any way constitutes medical claims or medical advice. You should consult a medical professional for medical advice and we believe this sincerely. Take care.