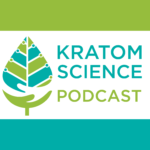 My guest is Drew Turner. Drew is a kratom activist and consumer who appeared in the documentary A Leaf of Faith. He is a Navy veteran, and As a result of his service, Drew suffers from PTSD, Meige syndrome, and has recently completed chemotherapy. He drinks kratom tea as a part of his wellness routine.
In November, the department of Veterans Affairs evicted Drew and his wife and pets from their long-time home outside of Washington DC. He currently lives in Michigan, and is in the early stages of planning a full-length documentary of his own about kratom.
Follow Drew on Twitter @DrewTurner73
Music: Risey "Memories of Thailand"
Written and produced by Brian Gallagher for KratomScience.com
Disclaimer: There is no content on the Kratom Science Podcast nor on KratomScience.com that in any way constitutes medical claims or medical advice. You should consult a medical professional for medical advice and we believe this sincerely. Take care.