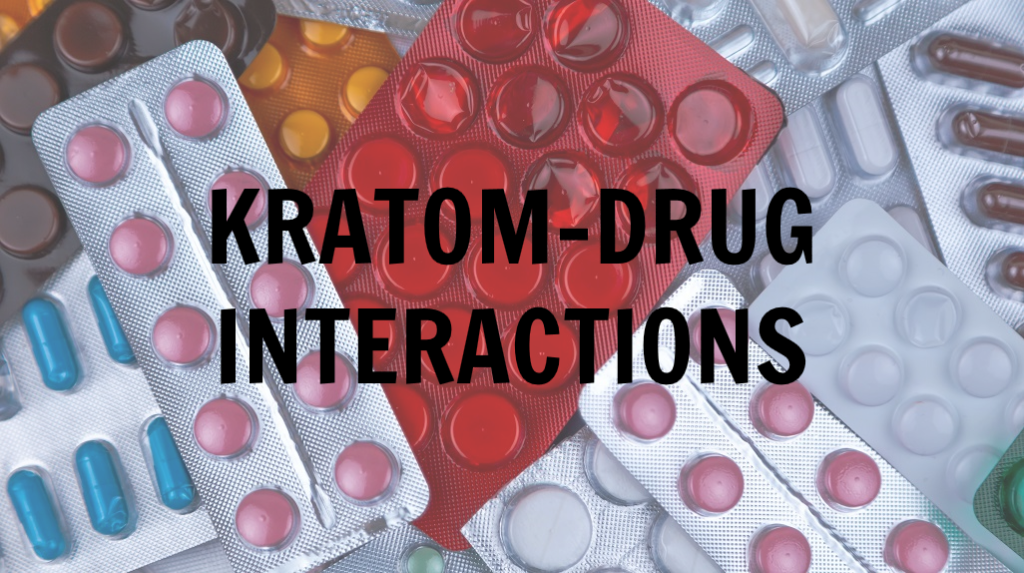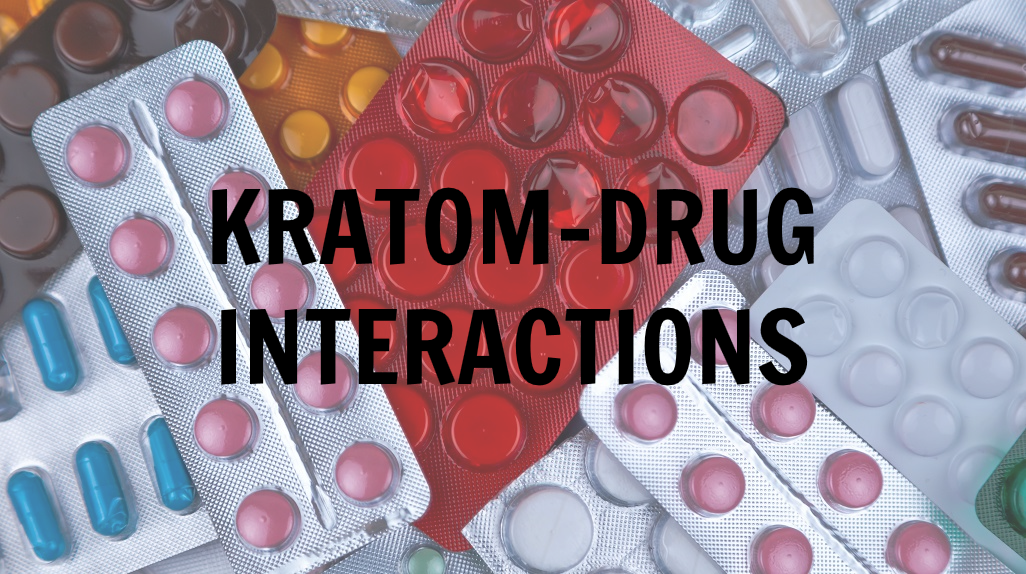 Many foods, drugs, and dietary supplements can interact with other foods, drugs, and dietary supplements. This can have various effects on the body ranging from barely noticeable to a toxic adverse event.
Kratom can interact with multiple drugs and dietary supplements, and certain foods. Multiple studies have shown alkaloids in kratom inhibit cytochrome P-450 enzymes that play a role in metabolizing drugs. Taking two or more substances (including kratom) that inhibit CYP450 enzymes can inhibit the metabolism of those substances, increasing the risk of toxicity.
While further research needs to be conducted in how extensively kratom interacts with other substances, two main CYP450 enzymes have been discovered to be inhibited by kratom alkaloids: CYP2D6 and CYP3A4. Kratom consumers who take other prescription drugs and dietary supplements should research whether these substances are also strong inhibitors of CYP2D6 and/or CYP3A4.
To avoid harmful interactions, many kratom consumers keep their doses low, take only plain leaf kratom (rather than strong extracts), and space their kratom dose several hours apart from consuming prescription drugs or foods that might cause an interaction.
Strong CYP2D6 inhibitor drugs (Source: drugbank.com):
Bupropion
Cinacalcet
Cisapride
Dacomitinib
Fluoxetine
Glycerol phenylbutyrate
Halofantrine
Methotrimeprazine
Midostaurin
Orphenadrine
Paroxetine
Propafenone
Quinidine
Thioridazine
CYP2D6 inhibitor foods/dietary supplements (Source):
goldenseal
milk thistle
kava
Echinacea
St. John's wort
Strong CYP3A4 inhibitor drugs (Source: drugbank.com):
Amiodarone
Amprenavir
Atazanavir
Boceprevir
Clarithromycin
Cobicistat
Conivaptan
Curcumin
Danazol
Danoprevir
Darunavir
Delavirdine
Diltiazem
Ditiocarb
Econazole
Efavirenz
Elvitegravir
Ergotamine
Idelalisib
Indinavir
Itraconazole
Ketoconazole
Levoketoconazole
Lonafarnib
Loperamide
Lopinavir
Methimazole
Midostaurin
Naloxone
Nefazodone
Nelfinavir
Nilotinib
Posaconazole
Ribociclib
Ritonavir
Saquinavir
Stiripentol
Telaprevir
Telithromycin
Terfenadine
Tipranavir
Troleandomycin
Voriconazole
CYP3A4 inhibitor foods/dietary supplements (Source)
Grapefruit juice
Green Tea
Curcumin/Turmeric
Black pepper extract (piperine or Bioperine)
Goldenseal/Berberine
Echinacea
Ginger
Kava
More research should be conducted to determine how kratom interacts with other substances. One recent human clinical study, multiple in vitro studies, a few case reports have been published on this topic.
Tanna et al 2023 studied 12 healthy adult participants who were given "a single low dose of kratom tea (2 g) on the pharmacokinetics of the CYP3A probe midazolam (2.5 mg) and CYP2D6 probe dextromethorphan (30 mg)". Researchers concluded, "Co-consuming kratom with certain drugs extensively metabolized by CYP3A may precipitate serious interactions."
Kamble et al 2021 is an in vitro study examining drug interactions with several individual kratom alkaloids in human liver microsomes: mitragynine (MTG), speciogynine (SPG), speciocilliatine (SPC), corynantheidine (COR), 7-hydroxymitragynine (7HMG) and paynantheine (PAY). The researchers found "SPG and PAY showed moderate inhibition of CYP2D6", but "MTG and COR were potent inhibitors of CYP2D6", and "may lead to clinically significant adverse drug interactions upon coadministration of drugs that are substantially metabolized by CYP2D6".
Kong et al 2011, another in vitro study, found kratom "has the most potent inhibitory effect on CYP3A4 and CYP2D6" and "may contribute to an herb-drug interaction if administered concomitantly with drugs that are substrates for CYP3A4, CYP2D6 and CYP1A2."
Todd et al 2020 evaluated 53 commercial kratom products and tested the effects of mitragynine, 7-hydroxymitragynine, and speciofoline on several CYP450 enzymes. "All three kratom extracts tested showed concentration-dependent inhibition of each CYP, with stronger effects on CYP2D6 compared to CYP2C9 and CYP3A".
Tanna et al 2021 found that "using a systematic tiered approach that considered both reversible and TDI and both the liver and intestine as sites of potential drug interactions, mitragynine was identified as a potent reversible inhibitor of CYP2D6 and a time-dependent inhibitor of CYP3A."
Case reports of kratom-related toxicities usually reflect a patient taking extreme amounts of kratom in addition to other drugs and/or with pre-existing conditions that may have led to the adverse event.
Brogden et al 2022 reports on "a case of a patient taking 150 mg venlafaxine (CYP2D6/3A substrate), 300 mg quetiapine (CYP3A substrate), and a high amount of kratom (~90 g) daily. The patient presented to the emergency department with serotonin syndrome and corrected electrocardiogram abnormalities that may have been secondary to supratherapeutic exposure to venlafaxine and/or quetiapine. The patient's symptoms resolved after discontinuation of venlafaxine and quetiapine." The patient was also treated for kratom use with buprenorphine/naloxone (Suboxone).
Vanani et al 2023 is a case report of a 37 year old man who was consuming kratom and amitriptyline, a drug authors tell us is "processed by CYP2D6". The man complained of "three weeks of fatigue, dry mouth, dry eyes, lower back pain, constipation, generalized abdominal discomfort, and occasional nausea that has been progressively worsening". He reported he was taking 12-14 grams per day of kratom. Four months prior he had completed an 18-month regime of Suboxone for opioid use disorder. A limitation here is that if a drug screen was conducted, it was unreported in the published article, nor was the kratom product the patient was using tested. Therefore the use of other drugs or adulterated kratom cannot be ruled out.
References
Kamble, S. H., Sharma, M., Mishra, V. K., & Singh, P. (2020). An appraisal of kratom: Its pharmacology and toxicology. Drug and alcohol dependence, 215, 108211.
Prozialeck, W. C., Avery, B. A., Boyer, E. W., Grundmann, O., Henningfield, J. E., Kruegel, A. C., … & Swogger, M. T. (2019). Kratom policy: The challenge of balancing therapeutic potential with public safety. Psychopharmacology, 236(9), 2713-2732.