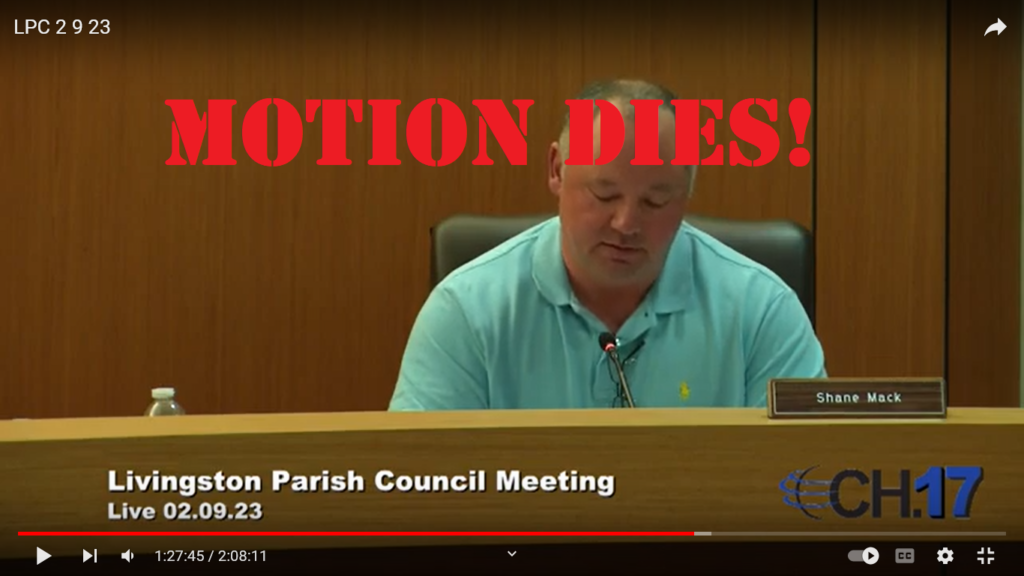 FEB 10, 2023
Citizens of Livingston Parish will not have to fear arrest for using kratom, for now. Last night at the parish council meeting, the motion to ban by Councilman Shane Mack to pass a kratom ban ordinance did not receive a second.
The ordinance would prohibit the sale of kratom in the unincorporated areas of the parish. Ordinances passed by parish council to not apply to the municipalities within Livingston Parish.
On January 12, the Ordinance Committee met to discuss a possible kratom ban. Besides Mack, the committee members seemed to be willing to regulate rather than ban kratom. In the next Ordinance Committee meeting on January 31, the committee was made up of all new members, except for Mack. Sheriff Jason Ard, who receives campaign contributions from a company that sponsors a local rehabilitation center, alone with two deputies, spoke at the meeting in favor of criminalizing kratom consumers. Mack and councilman Randy Delatte seemed to heavily favor a ban. Mack annouced that he would introduce a motion to ban kratom at the next council meeting.
The meeting occurred February 9. The motion did not receive a 2nd from any of the other council members, and therefore died.
Mack quoted the DEA in a speech other council members became impatient with. "The DEA drug fact sheet says that this can lead to psychotic symptoms".
Evidence is sparse that kratom can or has ever caused psychosis. In episode 24 of Kratom Science Journal Club, we discussed a case report of supposed "kratom induced psychosis". The patient was a combat veteran with six tours of duty, traumatic brain injury, adrenal insufficiency, and post-traumatic stress disorder who arrives at the ER with signs of psychosis. Prior to this, he hadn't slept in a week and ceased all medications including Adderall, hormone pills, an antidepressant, and a weekly testosterone injection. He'd also been taking powder kratom and had ingested a bottle of liquid extract a week prior to going to the hospital (Cutlip et al., 2021). A study of 150 regular kratom users in Malaysia found that while 4% displayed mild psychotic symptoms, "heavy and prolonged kratom use was not significantly associated with the occurrence of psychotic symptoms in regular kratom users" (Leong Bin Abdullah et al., 2019).
Mack also pointed to law enforcement claims that kratom is used to enhance the effects of illegal drugs. These claims were made with no evidence, nor a rationale as to why banning kratom would prevent the practice, nor a rationale as to why that practice is harmful to the community.
"Adulterated kratom is a very serious problem," said Mack with a straight face, before bringing up the case of a 2 year old who died after consuming kratom adulterated with tianeptine. Adulteration happen with "grey market" substances like kratom and dietary supplements. The adulteration of illegal drugs, such as heroin and cocaine, is a much more common and deadly practice. Adulteration of legal and heavily regulated drugs like alcohol, tobacco only occurs intentionally on the part of the consumer.
"In most cases where people have died from the use of kratom, it's because it was adulterated with other drugs," said Councilman Mack, seemingly arguing against his own proposal and in favor of regulation. "So when you're purchasing this material, this substance in Livingston Parish, there's no regulation to know whether or not this particular substance is adulterated. So I'm in favor of the ban."
"Is there a motion to second?" said Councilman John Wascom, presiding over the meeting. "There is no second, so that motion dies for a lack of a second. Next item on the agenda…"
At that point, Councilman Garry Talbert interrupted to explain that the Louisiana state legislator is working on a kratom consumer protection act to address the adulteration issue.
We will keep you up to date on any kratom related ordinances that happen in Livingston Parish, as well as dig into the motivations and financial incentives individual council members and police have for pushing for a ban.
References
Cutlip, H. A., Bushman, E., Thottumari, L., Mogallapu, R., & Ang-Rabanes, M. (2021). A Case Report of Kratom-Induced Psychosis. Cureus, 13(6), e16073. https://doi.org/10.7759/cureus.16073
Leong Bin Abdullah, M., Singh, D., Swogger, M. T., Rahim, A. A., & Vicknasingam, B. (2019). The prevalence of psychotic symptoms in kratom (Mitragyna speciosa Korth.) Users in Malaysia. Asian journal of psychiatry, 43, 197–201. https://doi.org/10.1016/j.ajp.2019.07.008