Researchers from Midwestern University recently published an article in the journal Toxics entitled "Public Health Implications and Possible Sources of Lead (Pb) as a Contaminant of Poorly Regulated Kratom Products in the United States". Based in part on earlier research conducted by lead author and pharmacologist Dr. Walter Prozialeck, several randomly selected kratom products have shown to have levels of Pb exceeding the toxic amount for people consuming moderate to high levels of kratom alone, or consuming kratom compounded with food products shown to contain Pb levels that aren't necessarily toxic by themselves.
Figure 2 from the article show levels of Pb in some kratom products compared to a non-toxic amount (on its own) found in some food products. Figure 1 shows the amount of Pb exposure in high-Pb kratom products compared to doses per day. Just ten grams of high-Pb kratom per day exceeds the permitted daily exposure (PDE) level established for drugs.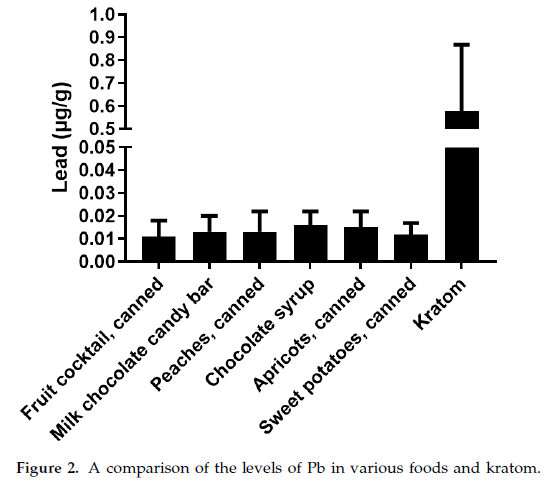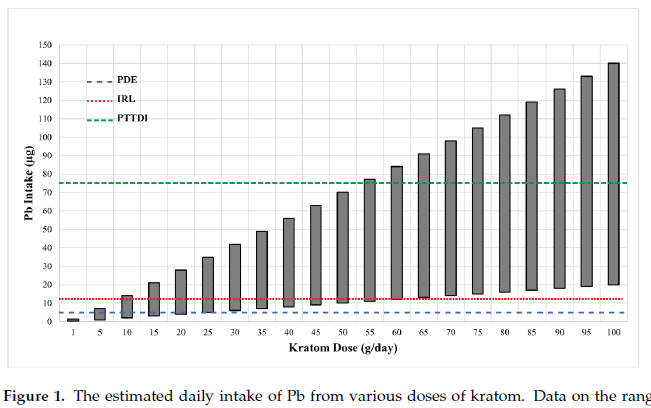 Toxic Effects of Pb
According to the authors "Pb can cause neurological, psychological, cognitive, behavioral, reproductive, developmental, immunologic, cardiovascular, and renal effects…anemia; increased blood pressure; altered bone formation, immunotoxicity, GI distress, and pain as well as behavioral effects and damage to the reproductive system". Pb is also especially dangerous to children and pregnant and nursing mothers.
Some of the rare case reports of kratom "side effects" in the United States (rarely-to-never reported in countries where fresh-leaf kratom is consumed traditionally) are also symptoms of Pb toxicity, suggesting these side effects may be from Pb contamination alone, or undiscovered kratom alkaloid interactions with Pb. Table 1 from Prozialeck et al lists these effects.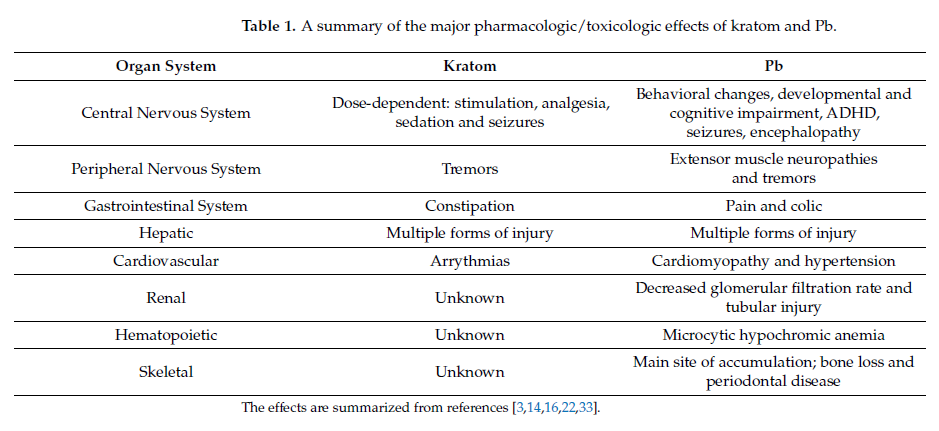 Possible Sources of Lead Contamination
The article lists possible sources of Pb contamination as 1) bio-accumulation of Pb from volcanic soil in Indonesia where most kratom sold in the US originates, 2) Pb pollution in Indonesia's water used to clean the kratom, and 3) outdated equipment used to process kratom, such as grinding mills.
Poor Regulatory Environment
In addition to the natural and manufacturing environment in Indonesia that might lead to contaminated kratom, Prozialeck et al. point to the poor regulatory environment in the United States that does not require kratom vendors to test their products.
The American Kratom Association has a Good Manufacturing Practices (GMP) that, if adhered to by those who paid membership fees, can ensure zero or minimal/non-toxic levels of metals in their products. The Kratom Vendors Association, founded by quality control experts, has offered additional aide and oversight for member vendors to comply with all the standards laid out in their own GMP program.
Outlawing kratom is likely to ensure that contaminated and adulterated products will be sold in an illicit market, but even further, the incentive to make products stronger, thus requiring less volume for easier concealment, will invite new dangers of contamination with illicit drugs, including fentanyl and its analogs. This phenomenon is known as the "iron law of prohibition".
For more information about this issue, please visit the Kratom Science Podcast page at kratomscience.com/podcast (or subscribe on any major podcast platform) for our upcoming interview with lead author Walter Prozialeck to be posted on August 4, 2022. See also our first episode with Dr. Prozialeck, #44, where we briefly discuss the lead issue.
Reference with link to Full Text
Prozialeck, W., Fowler, A., & Edwards, J. (2022). Public Health Implications and Possible Sources of Lead (Pb) as a Contaminant of Poorly Regulated Kratom Products in the United States. Toxics, 10(7), 398. https://doi.org/10.3390/toxics10070398