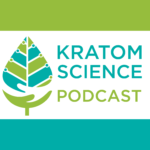 Dr. Cachat and Brian look at a letter (Smith et al, 2022) authored by former Kratom Science Podcast guests Dr. Kirsten Smith, Dr. Oliver Grundmann, Dr. Chris McCurdy, Dr. Darshan Singh, and other experts in the kratom field. The letter questions a systematic review (Broyan et al, 2022) of kratom case reports that offers buprenorphine as a solution to "kratom use disorder". Kratom-related case reports typically originate with patients showing up to emergency rooms and physicians' offices with symptoms. In these case reports, kratom product samples are rarely if ever tested for adulterants or contamination. The strength of the kratom product and dose levels seem to nearly always go unreported or wildly misreported (for example, the Broyan et al. review the Smith et al. letter addresses here claims the patients consumed an average of 92 grams of kratom per day). Furthermore, history or current use of other drugs is often overlooked.
Dr. Jon also talks about his trouble getting public data on cannabis testing and use trends from the State of Ohio's Marijuana Enforcement Tracking Reporting & Compliance (METRC) program.
References
Broyan, V. R., Brar, J. K., Allgaier Student, T., & Allgaier, J. T. (2022). Long-term buprenorphine treatment for kratom use disorder: A case series. Substance abuse, 43(1), 763–766. https://doi.org/10.1080/08897077.2021.2010250
Smith, K. E., Dunn, K. E., Epstein, D. H., Feldman, J. D., Garcia-Romeu, A., Grundmann, O., Henningfield, J. E., McCurdy, C. R., Rogers, J. M., Schriefer, D., Singh, D., & Weiss, S. T. (2022). Need for clarity and context in case reports on kratom use, assessment, and intervention. Substance abuse, 43(1), 1221–1224. https://doi.org/10.1080/08897077.2022.2074608
https://www.metrc.com/
Dr. Jonathan Cachat is on social media @jcachat and http://jcachat.com/
Kratom Science is on Facebook.com/kratomscience and Twitter @kratomscience
Music: Captain Bigwheel "Moonrunner"
Kratom Science Journal Club is produced by Brian Gallagher for KratomScience.com
So far we don't do advertising or ask for donations, but please support the Kratom Science Journal Club and Like, Subscribe, Share, Rate, Review, and Comment wherever you listen to podcasts. Thank you!
Disclaimer: None of the content on this or any episode of Kratom Science Journal Club, Kratom Science Podcast, or on any of the pages of KratomScience.com constitutes or should be considered medical claims or medical advice.