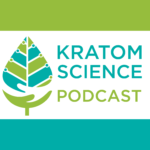 Dr. Cachat and host Brian Gallagher look at a groundbreaking study from University of Florida School of Pharmacy showing mitragynine has pain relieving effects independent of its metabolism into 7-hydroxymitragynine. This could be revolutionary in the study of kratom as a safer pain medicine. We go on to talk about the cannabis testing lab that Dr. Cachat is helping to develop in Columbus, Ohio, the phenomenon of "THC inflation" and "lab shopping", and what kratom alkaloid testing labs might look like in the future. We also talk about a recent article on cannabis compounds and SARS viruses.
Articles cited in this podcast:
Berthold, E. C., Kamble, S. H., Raju, K. S., Kuntz, M. A., Senetra, A. S., Mottinelli, M., León, F., Restrepo, L. F., Patel, A., Ho, N. P., Hiranita, T., Sharma, A., McMahon, L. R., & McCurdy, C. R. (2022). The Lack of Contribution of 7-Hydroxymitragynine to the Antinociceptive Effects of Mitragynine in Mice: A Pharmacokinetic and Pharmacodynamic Study. Drug metabolism and disposition: the biological fate of chemicals, 50(2), 158–167. https://doi.org/10.1124/dmd.121.000640 https://dmd.aspetjournals.org/content/50/2/158.long
Blog post summarizing the study above https://www.kratomscience.com/2021/12/29/study-mitragynine-does-not-rely-on-its-metabolism-into-7-hydroxymitragynine-to-produce-pain-relieving-effects/
Forbes article on cannabis compounds and COVID https://www.forbes.com/sites/ajherrington/2022/01/11/study-finds-cannabis-compounds-prevent-infection-by-covid-19-virus/?sh=505f76c17537
Music: Captain Bigwheel, "Moonrunner"
Kratom Science Journal Club is produced by Brian Gallagher for KratomScience.com
None of the content of this or any episode of Kratom Science Journal Club, Kratom Science Podcast, or on any page of KratomScience.com are intended nor should be taken as medical claims or medical advice. Please consult a medical professional, less is more, and be safe.
###