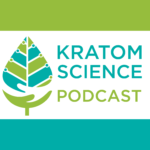 Spoiler alert: kinda, but its more the quercetin in kratom, which is available in many food plants and as a dietary supplement on its own.
This study comes to us from a team at Universitas Nahdlatul Ulama Surabaya (UNUSA) in Surabaya, Indonesia, on the island of Java, south of the island of Kalimantan, where most of the kratom sold in the United States is grown. In this in vitro study, researchers applied a methanol extract of kratom to analogues of e-coli and Streptococcus pneumoniae, a bacteria that causes pneumonia, meningitis, and sepsis. The kratom extract has been shown to eliminate the bacteria in both samples, however this may not be due to properties unique to kratom itself.
Plus, Brian checks on the sources for yet another claim in the introduction to this paper that kratom is "smoked", and we talk about false claims about kratom's healing properties at the beginning of COVID.
Study cited: Salim, Hotimah & Puspitarini, Marinda & Setiwati, Yuani & Shimabukuro, Michio. (2021). Antibacterial mechanism of Kratom (Mitragyna speciosa) methanol extract on Streptococcus pneumoniae and Eschericia coli bacteria. Biomolecular and Health Science Journal. 4. 98. 10.20473/bhsj.v4i2.28933. https://www.researchgate.net/publication/355850347_Antibacterial_mechanism_of_Kratom_Mitragyna_speciosa_methanol_extract_on_Streptococcus_pneumoniae_and_Eschericia_coli_bacteria
Dr. Jonathan Cachat is on social media @jcachat and http://jcachat.com/
Kratom Science is on Facebook.com/kratomscience and Twitter @kratomscience
Music: Captain Bigwheel "Moonrunner"
Kratom Science Journal Club is produced by Brian Gallagher for KratomScience.comSo far we don't do advertising or ask for donations, but please support the Kratom Science Journal Club and Like, Subscribe, Rate, Review, and Comment wherever you listen to podcasts. Thank you!
Disclaimer: None of the content on this or any episode of Kratom Science Journal Club, Kratom Science Podcast, or on any of the pages of KratomScience.com constitutes or should be considered medical claims or medical advice.