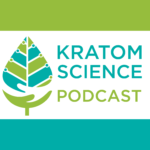 Dr. JC and Brian look at a study out of University of Science, Malaysia. The comprehensive and detailed study in mice from University of Science, Malaysia revealed mitragynine in very high doses is an agonist (binds to and activates) cannabinoid receptor Type 1 (CB1). Mice administered with high-dose mitragynine demonstrated similar reward-seeking behavior and cognitive impairment as mice administered with morphine and THC. Mice that received high-dose mitragynine, morphine, and THC with a CB1 antagonist (a compound that binds to a deactivates the CB1 receptor), did not exhibit similar cognitive impairment, nor did mice that received low-dose mitragynine.
Study referenced in this podcast Iman, I. N., Ahmad, N., Mohd Yusof, N. A., Talib, U. N., Norazit, A., Kumar, J., Mehat, M. Z., Hassan, Z., Müller, C. P., & Muzaimi, M. (2021). Mitragynine (Kratom)-Induced Cognitive Impairments in Mice Resemble Δ9-THC and Morphine Effects: Reversal by Cannabinoid CB1 Receptor Antagonism. Frontiers in pharmacology, 12, 708055. https://doi.org/10.3389/fphar.2021.708055
Study summary https://www.kratomscience.com/2021/10/26/study-high-dose-mitragynine-interacts-with-cannabinoid-receptor-to-impair-cognitive-functioning/
Follow Dr. Jonathan Cachat on social media @jcachat
Follow Kratom Science on Twitter @kratomscience and Facebook.com/kratomscience
Music: Captain Bigwheel "Moonrunner"
Kratom Science Journal Club is written and produced by Brian Gallagher for KratomScience.com
Disclaimer: None of the content on this or any episode of the Kratom Science Podcast, Kratom Science Journal Club, or any of the pages of Kratomscience.com should be considered as medical claims or medical advice.