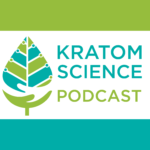 The subject of episode 17 of Kratom Science Journal Club Dr. Jon Cachat and Brian Gallagher talk about an article from Portuguese scientists about "new" psychoactive substances of natural origin, some of which have been consumed responsibly for centuries, some of which are best used if you want to murder someone via poisoning them. Oh, please don't take any portion of this podcast or any portion of KratomScience.com as medical advice, murdering advice, or any advice for any purpose. We talk about kratom, kava, mushrooms, datura, ayahuasca, khat, betel nut, jimson weed, mandrake, morning glory, and salvia divinorum.
Gonçalves, J., Luís, Â., Gallardo, E., & Duarte, A. P. (2021). Psychoactive Substances of Natural Origin: Toxicological Aspects, Therapeutic Properties and Analysis in Biological Samples. Molecules (Basel, Switzerland), 26(5), 1397. https://doi.org/10.3390/molecules26051397
Full text open access https://www.ncbi.nlm.nih.gov/pmc/articles/PMC7961374/
Check out Dr. Jon Cachat @jcachat on Twitter and elsewhere
Music: Captain Bigwheel, "Moonrunner"
Kratom Science Journal Club is produced by Brian Gallagher for KratomScience.com
Disclaimer: There is no content on the Kratom Science Podcast nor on KratomScience.com that in any way constitutes medical claims or medical advice. You should consult a medical professional for medical advice and we believe this sincerely. Take care.
###