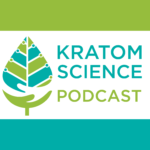 This time Dr. Jonathan Cachat and I look at a study where a team from University of Florida cultivated 68 kratom trees in a greenhouse, gave them varying levels of fertilizer, and measured for biomass, chlorophyll, and alkaloid content. Dr. Jon talks about similar studies he did with cannabis, and we go into what that would mean for a domestic kratom agriculture industry, home growers, and further science on the plant biology of kratom.
Article discussed in this episode: Zhang M, Sharma A, León F, et al. Effects of Nutrient Fertility on Growth and Alkaloidal Content in Mitragyna speciosa (Kratom). Front Plant Sci. 2020;11:597696. Published 2020 Dec 21. doi:10.3389/fpls.2020.597696
Full text https://www.ncbi.nlm.nih.gov/pmc/articles/PMC7779599/
Contact Dr. Jonathan Cachat @jcachat on Twitter and at http://www.ccvresearch.com
Music: Captain Bigwheel "Moonrunner"
Produced by Brian Gallagher for KratomScience.com
Disclaimer: There is no content on the Kratom Science Podcast nor on KratomScience.com that in any way constitutes medical claims or medical advice. You should consult a medical professional for medical advice and we believe this sincerely. Take care.