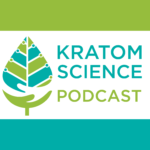 Dr. Jonathan Cachat joins Kratom Science Podcast host Brian Gallagher to talk about kratom research. Each episode we pick a study about kratom published in a peer-reviewed journal.
This week we discuss "Patterns and Reasons for Kratom (Mitragyna speciosa) Use among Current and Former Opioid Poly-Drug Users" published in Journal of Ethnopharmacology, March 2020.
Full citation and link: Singh D, Yeou Chear NJ, Narayanan S, et al. Patterns and reasons for kratom (Mitragyna speciosa) use among current and former opioid poly-drug users. J Ethnopharmacol. 2020;249:112462. doi:10.1016/j.jep.2019.112462 https://www.sciencedirect.com/science/article/abs/pii/S0378874119331587?via%3Dihub
Dr. Cachat's website http://jcachat.com/
Music by
Produced by Brian Gallagher for KratomScience.com
Disclaimer: There is no content on the Kratom Science Podcast nor on KratomScience.com that in any way constitutes medical claims or medical advice. You should consult a medical professional for medical advice and we believe this sincerely. Take care.