UPDATE: There is a GoFundMe for Marshall's family to pay for funeral expenses. Please share this on your social media with the hashtags #JusticeForMarshallPrice #JusticeForMarshall https://www.gofundme.com/f/marshall-price-justice-fund?fbclid=IwAR2_lkkG80LQBNCYcQTmOFy5ghoJxqDjDl76HgFdP0ePkpZ0lAHthAn_GUg
Marshall Price, an Arkansas man sentenced on November 16 to 10 years in prison for carrying 7 ounces of kratom, was killed in Greene County Jail, according to his family.
The Inmate Roster of Greene County Jail listed Price as "released" at 2:37AM on the morning of December 8.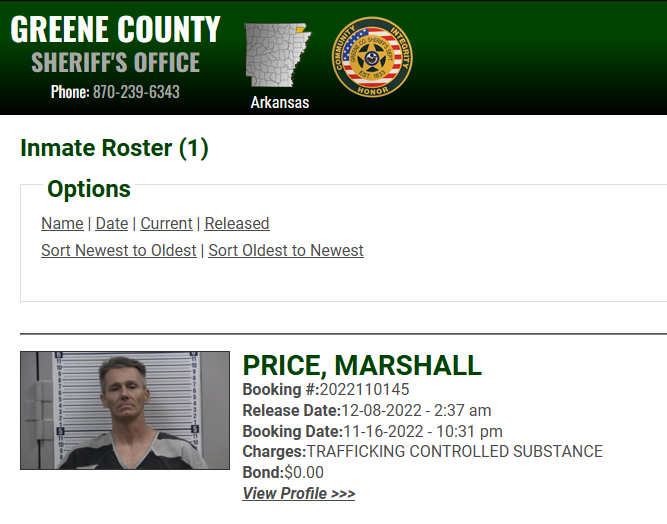 According to his daughter, Mallory Hobbs, in correspondence with Misty Brown, Price's injuries included "a massive skull fracture, ruptured spleen, and several severely crushed ribs.. he's been sent to our state crime lab in little rock".
After Price was convicted on 11/16, Prosecutor Keith Chrestman put out a press release celebrating his victory. "Our communities won't tolerate drug trafficking" he declared.
Chrestman also made news in February 2022 for being instrumental in blocking Damien Echols from introducing DNA evidence into the infamously unjust case of the West Memphis 3.