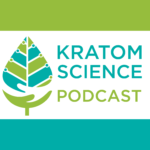 Dr. Jon Cachat and host Brian Gallagher look at a study that examined dopamine levels with an electrochemical sensor in rats administered with various levels of mitragynine. Dopamine release was detected as significant levels after a high dose of mitragynine after 4 days. Questions explored in this episode include: Does this accurately measure the kratom experience, since an isolated alkaloid is not the same as the entourage effect of several alkaloids in kratom? Since many of the alkaloids produce effects only after being metabolized, does kratom as a whole effect dopamine differently? Is this the proper use of the term "addiction" when the study seems to be about physical dependence?
Study examined in this episode:
Effendy, M. A., Yunusa, S., Zain, Z. M., & Hassan, Z. (2021). Real time monitoring of dopamine release evoked by mitragynine (Kratom): An insight through electrochemical sensor. Neuroscience letters, 763, 136183. https://doi.org/10.1016/j.neulet.2021.136183
Thus far this podcast does not ask listeners for monetary contributions, nor do we run advertisements. But we humbly ask you to support us by rating, reviewing, liking, and subscribing on your favorite podcast platform.
Music: Captain Bigwheel, "Moonrunner"
Kratom Science Journal Club is produced by Brian Gallagher for KratomScience.com
Disclaimer: None of the content on this or any episode of Kratom Science Journal Club or Kratom Science Podcast, nor on any of the pages of KratomScience.com should be taken as medical claims or medical advice.