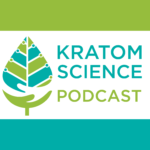 This is the Kratom Science Journal Club with Dr. Jonathan Cachat, neuroscientist and expert in psychopharmacology. In each episode we discuss an article in a peer reviewed journal.
For episode 2 we discuss the article, "The Potential for Kratom as an Antidepressant and Antipsychotic" published in Yale Journal of Biology and Medicine, edition 93, June 2020 and co-authored by Kratom Science Podcast guest Marc Swogger.
How do dopamine, serotonin, and cortisol work to affect psychosis and depression? What effect does mitragynine have on our brains? How is mitragynine metabolized? How does kratom work differently from opiates and psychedelics? And finally why were these substances made illegal, rendering these questions tough to answer even in the 21st century?
Full citation of article discussed: Johnson LE, Balyan L, Magdalany A, et al. The Potential for Kratom as an Antidepressant and Antipsychotic. Yale J Biol Med. 2020;93(2):283-289. Published 2020 Jun 29.
Dr. Cachat's website http://jcachat.com/
Music: "Moonrunner" by Captain Bigwheel
Produced by Brian Gallagher for KratomScience.com
Disclaimer: There is no content on the Kratom Science Podcast nor on KratomScience.com that in any way constitutes medical claims or medical advice. You should consult a medical professional for medical advice and we believe this sincerely. Take care.