Oh, I never!
Scott Gottlieb was hired to the board of Pfizer? Puh-Fizer? What?
This is so out of left field for a healthcare venture capitalist! Next you'll be telling me that the only reason he got his degree in internal medicine is for street cred with Big Pharma, and to cash in on the fact that our economic system allows vampires to become millionaires by sucking the life savings out of sick and dying people.
AND!
that the only reason he became FDA commissioner was to increase profits for pharmaceutical companies! LOL you must be a crazy conspiracy theorist:
https://www.jsonline.com/story/news/investigations/2019/07/03/lack-action-fda-under-scott-gottlieb-pfizer-drug-questioned/1643418001/
Unlike European drug regulators, the U.S. Food and Drug Administration under Scott Gottlieb did not say doctors should stop prescribing a potentially dangerous dose of a drug made by Pfizer — a company whose board Gottlieb soon joined.

In February, when Gottlieb still was head of the FDA, a Pfizer safety trial showed that rheumatoid arthritis patients who got a higher dose of the drug Xeljanz had a "statistically and clinically important difference" of blood clots in the lungs and deaths.

The safety trial, which was required by the FDA, did not focus on the other two conditions for which the drug is approved — ulcerative colitis and psoriatic arthritis. The trial involved patients 50 or older with at least one risk factor for cardiovascular disease.
Oh wait.
Maybe we SHOULD NOT have a revolving door between big corporations and big government.
No. No. That can't be possible.
Is it possible that ONE THIRD, 29.4% of the FDA's budget comes from HUMAN DRUGS, and/or fees from big pharma for new patented drugs? I must be a big conspiracy theorist and got this sourced from a conspiracy internet site. Oh wait, this is from the FDA's OWN WEBSITE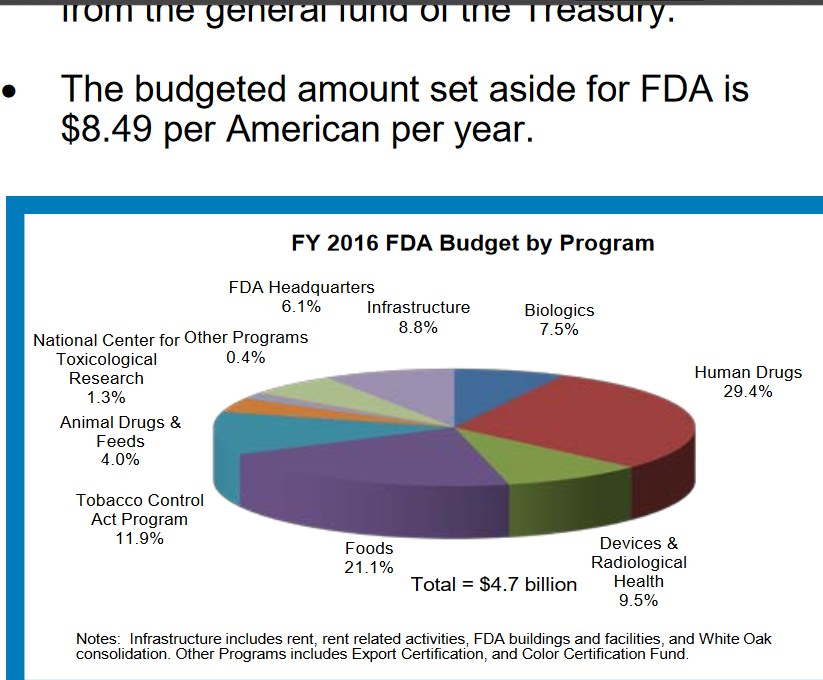 What? No! This can't be true. This must be the Russians! What?